St. Oswald's Church has a very long history dating back to at least 1269.
 In 1269 Richard Grosvenor, who resided at Hulme Hall, built a Chapel of Ease dedicated to St Oswald at Lower Peover on the site where the church now stands. This was to save the long journey to worship at Great Budworth, which incidentally used to be our "Mother" church. The timber frame building with wattle and daub walls would most likely have had a thatched roof.The furniture of the church in those days was very minimal. During the services the congregation would have stood or sat on an earth floor whilst the elderly and infirm would have leaned for support against the walls. Hence the saying "The weakest go to the wall " Lighting would have been from candles or crude oil lamps. A disused font from Norton Priory was added in 1322.In 1464 Robert Grosvenor added a chantry chapel which was demolished in 1542 by order of Henry VIII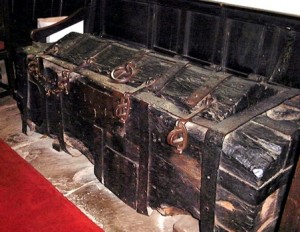 St Oswald's is famous for its 'bog-oak, dug-out chest', now in the Shakerley Chapel in the south aisle. It is believed to be older than the church itself and was used for many years to keep Parish Registers, vicars' robes, chalices and church documents. The chapel began to perform marriages from 1570 when the registers were first kept. Four of the five present locks were added at the Reformation when the four churchwardens had to be present with the minister, and their keys, if a service were to be held at all!  Tradition has it that if a girl wished to be a farmer's wife she should be able to lift the chest lid with one arm!  It is believed that this tale originated because it was said that a farmer's wife in those days needed to be strong enough to be able to lift the famous Cheshire cheeses made in the area.
In the 1400s the Shakerley family, who continued the Grosvenor tradition of support for the church, inherited Hulme Hall.  The Shakerley family crest, a hare and wheatsheaf, can still be seen on several of the box pews. The tower as we know it, was added during the reign of the first Queen Elizabeth in 1582.
In 1851 the original single span roof was replaced by the triple span roof, and major building refurbishment work was carried out under the direction of noted architect Anthony Salvin. The lych gate at St Oswald's is also of interest although of a later date having been build during the incumbency of the Reverend Arthur Guest around 1900.
St Oswald's church is a special place and for centuries has provided for many a haven of peace, a place for prayer, contemplation, support, comfort and hope, a place which it is sincerely hoped will continue to be available for future generations.